Nestled along the Sevre River, in the Nantes region of the Loire Valley, sits the village of Saint-Fiacre.  This is Muscadet country and home to owner/winemaker Pierre-Henri Gadais' exciting new winery, Domaine de la Combe.  A 5th generation vigneron, Pierre-Henri now stands at the vanguard of the region's vinous revolution.  A rising star within French wine circles, Pierre-Henri (and other like minded young winemakers) is working hard to bring this storied region back to its former glory.  After a world tour of vineyards (Burgundy, Bordeaux, Sancerre, Switzerland, Australia), he decided to return home to pursue his dream of crafting terroir-driven wines with precision, elegance and sophistication.
Pierre-Henri's property sits on the southern slopes of a valley carved out of metamorphic rock, about an hour's drive from the Atlantic Ocean.  His 14 hectare vineyard that dates to the 1950's is farmed organically and tended to entirely by hand.  With its wet, maritime climate, organic farming is a great challenge in this part of France, but he firmly believes that it makes better wine with a higher sense of place.  Pierre-Henri makes wine with as little intervention as possible:  Grapes are fermented underground using only ambient yeasts.  There is no sulfur used during this process and the wines are chill stabilized to inhibit malolactic fermentation, thus preserving freshness and the grape's natural character.  The wines are unfined and unfiltered, released only after extended aging in tank and bottle.  Unlike most Muscadet producers (30%), the great majority (80%) of Domaine de la Combe's wines are exported.
The largest and most important sub-appellation within the larger region is Muscadet-Sévre et Maine, named after the two small rivers that flow through the area.  Its 6,500 hectares of vineyards are spread out across 20+ communes southeast of the city Nantes.  The dominant grape variety is Melon de Bourgogne, once home to the Burgundy wine region, hence the name.  While it fell out of favour with the Burgundians, it found a natural home in the gently rolling hills south of the Loire River where the grape thrived in the region's Atlantic-dominated climate.  Like many vigorous varieties, Melon de Bourgogne will produce neutral, uninspiring wines if yields are not checked.  As a result, the appellation imposes strict yield restrictions (55 hl/ha), that are reduced further by the region's top wineries.  Reducing yields greatly increases the concentration  and complexity of flavours in all wines, and this is particularly the case with Melon de Bourgogne.  Winemakers here also employ a technique known as 'sur lie'; following fermentation, the wine sits on the fine lees (dead yeast cells) for an extended period of time.  These lees impart richness,  weight and depth to the finished wine.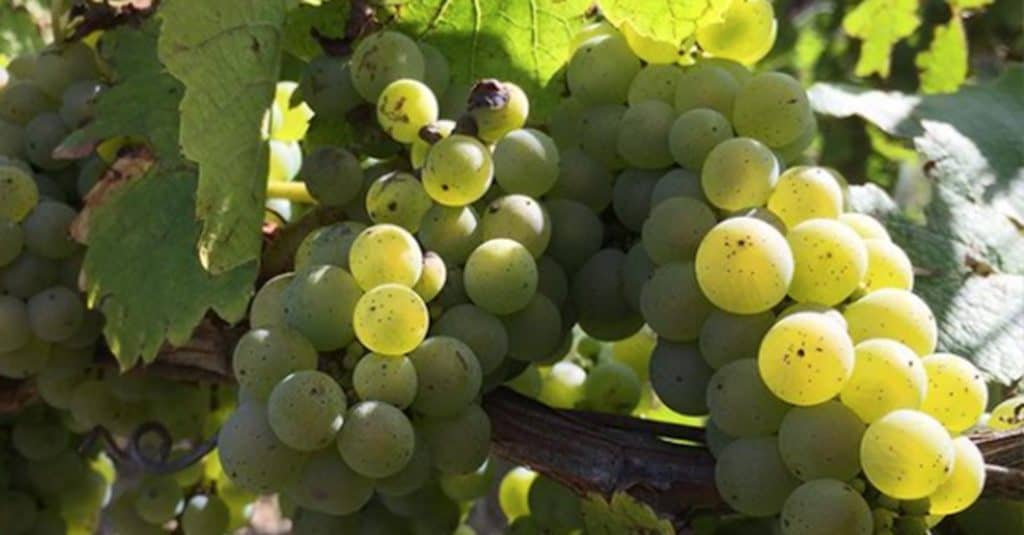 At their best, Muscadet wines have a creamy texture with a tangy citrus profile, zippy acids and a salty mineral-inflected finish.  Though the majority of Muscadet is enjoyed young, they have an under-appreciated ability to age given their high levels of natural acidity.  They are the perfect foil to the region's abundant, fresh seafood; mussels, oysters, scallops and Atlantic salmon.  But as the region's winemakers are quick to point out, they also pair well with other fare, notably Asian cuisines.  We are extremely proud to work with one of Muscadet's finest producers and are pleased to present Pierre-Henri's top cuvée for a limited time.  So put down the Chablis for a moment, and explore Muscadet at its finest.  You won't be disappointed.
Rich and textured for a Muscadet. There is a touch of apricot and peach on the nose. The typistic citrus elements are there as well, with a whiff of gunsmoke. Ripe green apple, lemon-lime and a hint of peach are framed by fresh acidity and biscuity, autolytic notes. This is a fabulous contemplation wine with plenty of complexity. It would also pair wonderfully with grilled sea bass.
$31.50 /bottle